September 29, 2012
This is part 2.
Go back to part 1.
Go on to part 3.
Return to The Lexx.
Go to main blog.

Images in this post click back to outside sources. Thumbnails will click to full size or back to source. :edit: I apologize, the server move broke the links on some of the pix, they're on my fixit list. Thanx for your patience.

With our hero dead only 6 minutes into the movie, which way do we go? That's right, we skip forward 2000 years.

The first thing we see is The Cluster filling the screen, the home planet to His Divine Shadow, and like it says, capital to the League of 20,000 Planets. Planet watchers may notice this particular planet is a chunk of rock, like an overgrown asteroid or moon, and the Cluster is carved into it and shielded with a ceiling built into the planet's surface. You're also going to notice several other things about The Cluster as the movie moves along- no green things growing anywhere, no open sky besides complete cloud or city cover, and no decor. The Cluster is pure form and function.

The Cluster as Capital City is a sealed and highly monitored compound. These groups of buildings house the Lexx and a complex judicial system. The outer accessways of these rows of big pyramid styled buildings is worker housing for what look like prisoners.

The first person we see sleeps in a tiny box, his only living quarters. He is awakened with propaganda and a computerized image sentences punishment for not reporting for work on time. Note that there is no volume knob or off switch, a scene very much like Big Brother on roids.

"Only a thin dimensional barrier separates us from the festering evil, malignant depravity, and alien chaos of the Dark Zone. The Dark Zone is not separate like two different planets. The Dark Zone coexists in the same space as our universe, in the same place at the same time. The Dark Zone has no rules, no sense, no order. We give thanks to His Divine Shadow for his ceaseless vigilance, protecting our universe of Light and Order from the horrors and disorder of the Dark Zone. We worship His Shadow. Long may he reign."

"Good morning. Security Guard Class 4, number 47632943, Department 511, Level 4. This is your third wake up call. If you are late, you will receive 7 demerits. You already have 991 demerits."

A lot of other people seem to be going through the same thing. A whole lot of people sleep in nothing more than tiny little boxes and literally own nothing but the uniforms on their backs.

Meanwhile, the same obnoxious computerized face, apparently used as an interface for all menial communications, kicks off a redirect alert in a prisoner transport bound for the Cluster. (By the way, nice visual pun, a face as an interface, not sure if that was intentional, but we later realize the weird macabre style doll face most certainly was an intentional slight against humans, once we see the extreme species prejudice in the fourth movie.)

"Due to a bulkhead malfunction, Prisoner Transport 58K603, you are being diverted from Gate 417 Punishment Level 2, to Gate 511." All the numbers are read off individually, like five-one-one.

It is never indicated or even hinted at, but I believe the audience is supposed to realize as the story unfolds that the bulkhead malfunction was a deliberately premanufactured plant by Heretics as part of a much bigger plot. Or it could just be that particular transport had such a famous guest on board that it was diverted directly over for entertainment purposes, but I don't think so, given the plan that was carried out. A lot of things happen in Lexx that are never explained, you either miss it or put the puzzle together on your own, which I feel is a compliment, the film makers assuming that we have brains and don't need to be spoon fed, like so many scifi shows feel the need to do.  Good editing does the work of explaining everything.  

These guards are being awakened out of stasis while the prisoner transport is remotely rerouted into a different flight path among a whole flock of other prisoner transports. All prisoners wind up on the Cluster.

(Incidentally, have you wondered yet why in the world it's called The Cluster? You can look up a definition for cluster and it all looks about right, or you can go a step further... hint- some insects cluster, and rows of egg follicles are called clusters. Season 2 will go into why this might be a better image.) (And if you are remembering that part 1 said the Brunnen G defeated the Insects in the Insect Wars, you get a star on your forehead.)

My first question upon seeing the inside of the prisoner transports is how costly must it be to run all those small vessels from other planets with only a few prisoners in each one. Wouldn't a larger cargo ship carry them all more efficiently?

Two things, slavery and psychology. Cost doesn't matter if you're running a spartan slave society, and keeping prisoners bolted to slabs and isolated into very small groups for processing kills hope and diminishes the success of subversive efforts for rescue.  At any rate, prisoner comfort and human rights aren't a consideration.

"It's your day of justice, Thodin!"

But still, this seems to be an overly elaborate way to handle prisoners. What is the point? *IS* there a point? Remember I asked this when you watch the fourth movie later.

The prisoner transports are guided through an opening in the roof of the Cluster and over a sprawling metro complex, a mega city in perpetual darkness. I have thought so much about this city, a model society completely controlled by His Shadow. No creativity, no choice, no autonomy. No escape.  Model citizenry based on ratting out your fellow man, entertainment wrapped around a heinous judicial system, government as religion, sucking up to Big Brother, in this case, His Shadow.  If Orwell ever gave you the willies, Lexx will melt you in fear, especially when you think how close some of our own histories have come to stuff like this, or still could.

One of the first things we see as the transports fly into the Cluster is the Lexx, housed in a huge hangar overlooking the city. The transports fly past Lexx and over a giant mega stadium to an even taller docking port. I'm not sure I can estimate how many stories high these constructions are, but they are massively impressive.

A security guard with 991 demerits is almost late reporting to work at Department 511 Level 4. A prisoner transport has been diverted to Gate 511. This is Thodin's day of justice... 

Ok, you have to imagine that last bit with my tongue so far in cheek that it's sticking out my ear.  You've NEVER seen a movie like this one.  I can't wait to start obsessing over part 3.

This is part 2.
Go back to part 1.
Go on to part 3.
Return to The Lexx.
Go to main blog.
Please go to
Lexxperience.com
for updates. This site is not yet EU cookie compliant and being blocked in some countries outside the U.S.
LEXX 20th Anniversary- 2016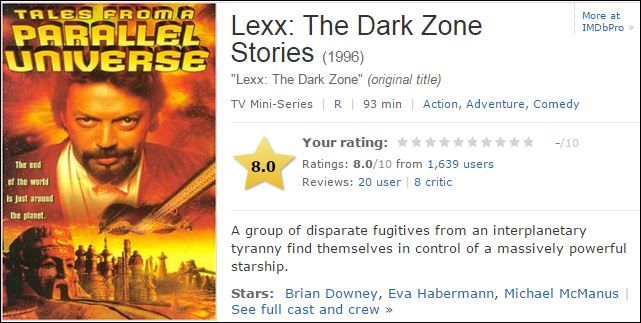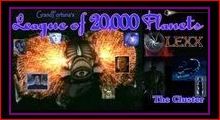 XANGA IS BACK - a public thank you to the Xanga Team.

Lexxperience.com supports mobile viewing until Xanga gets that going again. (It's back on my Android now when I turn it sideways.)
Lexxperience is also on Facebook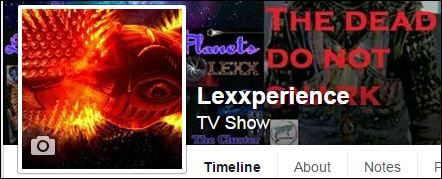 Public sharing page for Lexx fans.
Open discussion in the Lexxperience group on Facebook if you'd like to interact with me and other fans about what I'm writing about Lexx.
SAVE LEXX <-- what's happening with this blog.
I will NEVER ask for or accept donations to keep this site going. Ever.
Laptop screencaps used in not for profit blog episode and character reviews and film study at grandfortuna.xanga.com and lexxperience.blogspot.com Copyright Disclaimer Under Section 107 of the Copyright Act 1976, allowance is made for "fair use" for purposes such as criticism, comment, news reporting, teaching, scholarship, and research. Fair use is a use permitted by copyright statute that might otherwise be infringing. Non-profit, educational or personal use tips the balance in favor of fair use."
My screencaps are hosted at LexxPix. You are welcome to use my bandwidth to share these pix to other sites.
Join registered hashtags #Lexxperience, #Lexx, and mashtag #MerLexxian for real time twitter feed, photos, and videos.
Public hashtag #pblexxpix goes to a shared album in my photobucket. Anything on twitter, instagram, and photobucket labeled with this hashtag will automatically appear in this album as well. You are welcome to use my bandwidth to share these pix to other sites.
Lexx fans have permission to translate and copy my material to other fan sites and hotlink images from this blog.
Subscribe in a reader
Subscribe to GrandFortuna by Email

My first tracker was installed in 2004 and broke several times before moving to a new server, which lost a few months of stats, and then Xanga moved to new servers and I lost more stats for more months before the page came back up, so I've lost a total of about two years' worth of stats. The second was installed 2-22-14 and is considered very conservative by business owners who use analytics, which itself is very conservative, estimates being that roughly one third to one half of hits by real live people aren't even counted, most likely due to javascript discrepancies. Actual hits on several posts here are in the thousands now, and the Lexx Index in the ten thousands. I've got pingbacks turned off, so spam isn't counted at all within the Xanga internal tracker, and most direct post hits can be correlated to my real time linking activity on twitter and other social media. When I did Google Analytics beta testing I got to see how search engine performance compares to tracking. I believe live feed linking sources to various social medias are key to a future where search engines are more about performance than cataloging, which has been confirmed to me by coders who create bot algorithms as I was beta testing paper.li. I've fought hard through redundant age-old stacks to make my way to the google front lines again, so my Lexx work shows up faster on Chrome searches now. This has been a really interesting ride. At any rate, my point is, I can still go back 6 years on my original tracker and I can still see that in 2013 just before the last big blog server move, I was getting traffic like this (and since then, the tracker may have been abandoned, we can't tell). Click the thumbnail to see full size.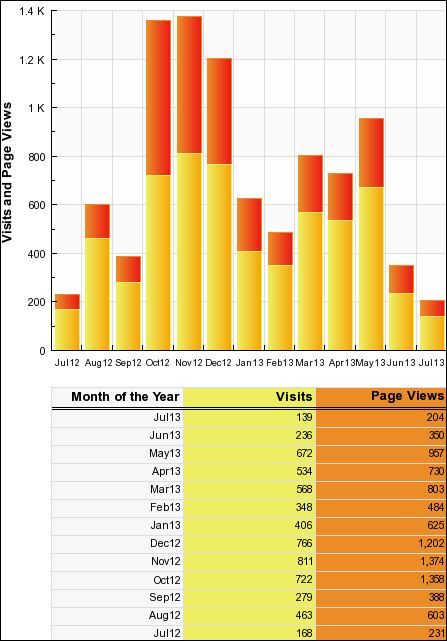 My original tracker also still lets me see the latest 500 visitors on a map. I once counted over 80 countries among the total visits. You guys are not alone. Click the map to see it better.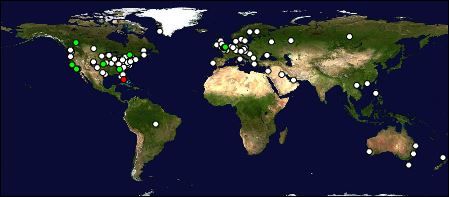 Besides Lexx, the most common search phrases that bring new visitors here are variations on 'huge spaceship'. The most seen post from a phrase search is How Big is the Lexx? My biggest Lexx referrer is Lexx Domain. Most of page views per person count comes from the Lexx tag on Tumblr. Visitors who stay the longest come through URLOpener and are pinged through the Google translator server in Mountain View, CA.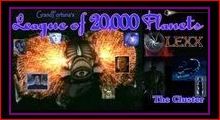 Lexxperience

Google+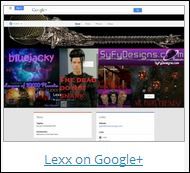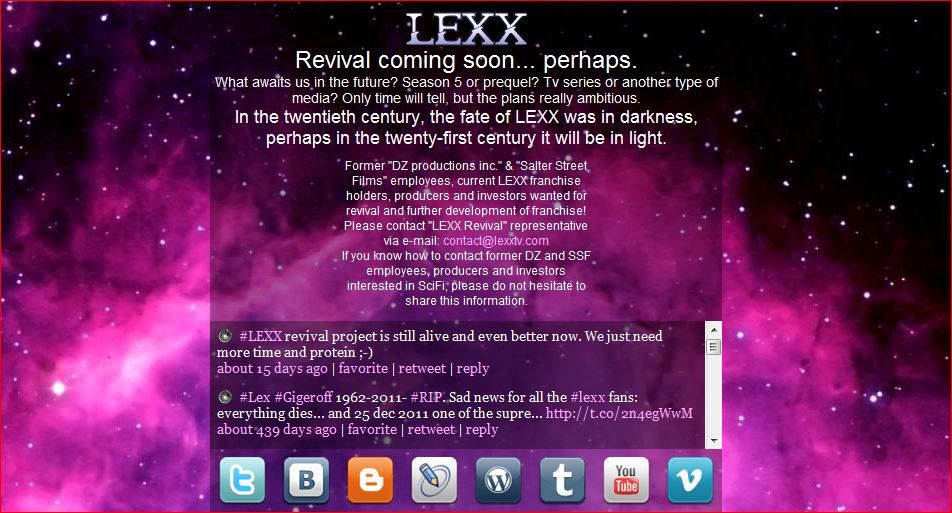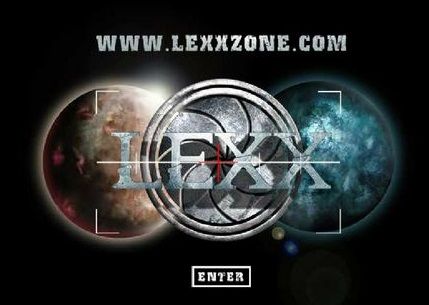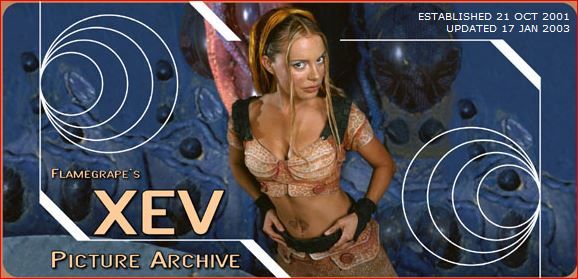 Categories
Everything I have in this blog
Calendar