January 1, 2013
(This post follows two previous posts called The Nerdist Way and Team Nerd, and after this post go to The Nerdist Score- 'aspie spoonie Lexx fan on a mission' assessment.)

I've been singing the praises of Chris Hardwick for founding the Nerdist Way for all us nerdlings spinning our puny little wheels and not getting anywhere with our brilliance in our dark little rooms, surrounded by tech and living on feeds. Chris knows the secret to coaxing evil villains out of the dark, and I ventured forth, blinking in the light and found my way into a real fitness center, the premise being that evil genius must be nurtured with good health. I was doing awesome one puny step at a time, reaching personal goals I didn't believe possible for someone like me.

Kinda all blew up this last month. Holidays, stress, other people's dramas, and then you throw in fall allergies and other people's germs, not to mention the social pressures- social anxiety isn't cute on its best day and blows up into a nightmarish hell around holidays. All these things start spiking depression and preexistent pain levels, and when you already live with *stuff*, sometimes the wimpy spiral back down goes out of control into the screaming before the big crash stage, and then you lay there after the holidays in a little jumbled heap wondering how in the world you can ever pull it back together.

For instance, going to physical therapy and then 'graduating' to the fitness center was helping me get a really good handle on my fibromyalgia, which a rheumatologist once called "severe", and docs all feel frustrated because I react badly to so many meds. So I treat the old fashioned way- quality rest, good hydration, excellent nutrition, and psychological health projects. But all that does is create a great way to tread water. Throwing workouts into the mix actually brought the pain level DOWN, and depression easing up followed close after. I have Chris Hardwick to thank for that motivation, because no one else on the planet was getting me to take that last step into accepting fitness as a way of life.

So everything piled up again the last 6 weeks, I crashed like the alien chasing Will Smith in Independence Day, and now I've got to come up with a Plan. WWCHD? (What Would Chris Hardwick Do?)

First thing is assess. Go back to part one in his book The Nerdist Way and review. What are my character strengths, what things do I love doing most, what am I doing with my life ~right now~? Next thing is organize it all back into little lists and charts, just like I did in the beginning. What do I want to do? Where do I want to go with this? What will it take to get back on track? And once I have my mind organized, I can start small stepping again back into the direction I was going, remembering that since I've done it all before, my body will remember it and be able to click right back into the pattern. The hard part in all this is picking my crumpled crashed self back up and taking the steps. Especially in the winter. It's nasty outside!

Assess- I'm actually not doing that bad. Before I started following the Nerdist Way I was in so much pain in my spine that I could barely sit for long or carry groceries in from my car. It seems to be coming back again, but stress and slacking off and cold weather does that, right? I. can. do. this. I don't have to be a wimp just because I'm wimpy. Before you all think I can get up and grind along on sheer will, no I can't. You can't, either, that's why you're reading this. We suck. But Chris says we can suck in a much cooler way. All we have to do is remember our innate penchant for world domination and use our natural brainiac talents to succeed in our quest. And part of that quest is the goal for more mobility and endurance. And part of reaching that goal is to keep moving, keep learning how to keep moving correctly, keep using what we've learned to keep gaining more small steps toward our bigger goals. I have to be honest, I feel like everything sux again, but compared to six months ago, I'm doing pretty fabulous, so even though I went splat on my face, it's not going to take as much work this time to get back to where I was.

Organize- The third part of The Nerdist Way was about organizing my time. Now that I've slumped, my life is in some disarray again, and it looks harder to get something done. I got sidetracked by all that social pressure and the resultant physical and emotional drain, and I dropped the ball on keeping a pattern going on my calendar. What I need to do is pick back up on making a pattern again, assign tasks to dates and make sure I don't overextend myself. Small steps back into the pattern. Make it easy to get rolling again so I don't get frustrated and give up. Worked the first time, it'll work again.

This probably seems babyish and dumb to people who have boundless energy and preset schedules with work or school. This probably seems monumental to people who have chronic fatigue and endless time because they can't work or go to school for various reasons. I've been on both sides. If you haven't experienced THIS, then none of your advice will help me, because you won't understand, even if you think you do. Chris Hardwick actually understands. He's lived with a spinal injury, anxiety attacks, depression, and being overweight. You can't even tell now. He got where he is exactly by doing what he says to do in his book. He crawled out of his ditch, made a cool nerd map, and now I'm crawling out of my ditch following his map.

I think the last time I posted about this I had very happily worked my way up to work level 4 for 15 minutes on a recumbant nustep, and 15-20 reps on various weights for core strength training. I was feeling pretty rough when I made it back into the fitness center to pay my bill a couple of weeks ago, so I dialed it back. There was no way I could pull off a hard 20-30 minutes of my full workout. So I geared the nustep back down to work level 3 and took my time pedaling over 12 minutes to warm up, while frantic people all around me flapped their body parts like crazed holiday freakazoids, sweat dripping down bodies I was afraid would collapse across me in heart attacks. Don't exercise like that. Those kinds of noobs don't last long at the fitness center, and all us regulars *know* it. We watch them come and go. You can tell the people who are really used to regular workouts, no matter how light or difficult, because they stay ~calm~ and pace themselves. So don't be a noob. If you don't feel well, take it easy, let your poor body acclimate to the warm up, then move slowly through your workout. That day I also pulled all the pins out and dialed my weights back to just 7-8 reps at only 20 pounds. My total workout time was about 18 minutes, and I was worn out because I went in feeling rough to start (fibro + virus + nasty cold weather, you get the picture). But I felt GREAT walking out that door. I could never have done that workout 6 months previously. I have apparently built up my endurance to the point of actually being able to work out on what feels like one of my worst days. *wow* I can't tell you what that did for my mental and emotional frame of mind the rest of the day.

It's ok to have a wimpy workout. The main thing is to keep making it out the door and feel good about accomplishing something, even if you have to dial it back a little bit. The main thing is that your body is getting stronger and more capable, even when you don't feel like it is.

If you are having trouble getting started on your New Year goals and resolutions, please try The Nerdist Way of doing it. Your life really can change, and you can find a way to do stuff that looks impossible to you right now. Chris has it mapped out, it's all there. Just click his pic.

:edit: 1-3-12 I can't say enough for the nustep TRS 4000 recumbent cross trainer if you have joint pain in your feet.

:edit: 1-4-12 Nustep did not pay me to say this.
Please go to
Lexxperience.com
for updates. This site is not yet EU cookie compliant and being blocked in some countries outside the U.S.
LEXX 20th Anniversary- 2016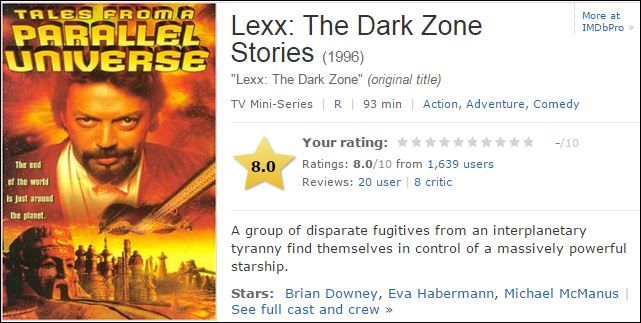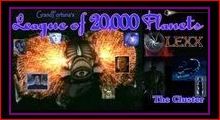 XANGA IS BACK - a public thank you to the Xanga Team.

Lexxperience.com supports mobile viewing until Xanga gets that going again. (It's back on my Android now when I turn it sideways.)
Lexxperience is also on Facebook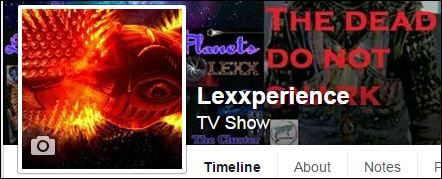 Public sharing page for Lexx fans.
Open discussion in the Lexxperience group on Facebook if you'd like to interact with me and other fans about what I'm writing about Lexx.
SAVE LEXX <-- what's happening with this blog.
I will NEVER ask for or accept donations to keep this site going. Ever.
Laptop screencaps used in not for profit blog episode and character reviews and film study at grandfortuna.xanga.com and lexxperience.blogspot.com Copyright Disclaimer Under Section 107 of the Copyright Act 1976, allowance is made for "fair use" for purposes such as criticism, comment, news reporting, teaching, scholarship, and research. Fair use is a use permitted by copyright statute that might otherwise be infringing. Non-profit, educational or personal use tips the balance in favor of fair use."
My screencaps are hosted at LexxPix. You are welcome to use my bandwidth to share these pix to other sites.
Join registered hashtags #Lexxperience, #Lexx, and mashtag #MerLexxian for real time twitter feed, photos, and videos.
Public hashtag #pblexxpix goes to a shared album in my photobucket. Anything on twitter, instagram, and photobucket labeled with this hashtag will automatically appear in this album as well. You are welcome to use my bandwidth to share these pix to other sites.
Lexx fans have permission to translate and copy my material to other fan sites and hotlink images from this blog.
Subscribe in a reader
Subscribe to GrandFortuna by Email

My first tracker was installed in 2004 and broke several times before moving to a new server, which lost a few months of stats, and then Xanga moved to new servers and I lost more stats for more months before the page came back up, so I've lost a total of about two years' worth of stats. The second was installed 2-22-14 and is considered very conservative by business owners who use analytics, which itself is very conservative, estimates being that roughly one third to one half of hits by real live people aren't even counted, most likely due to javascript discrepancies. Actual hits on several posts here are in the thousands now, and the Lexx Index in the ten thousands. I've got pingbacks turned off, so spam isn't counted at all within the Xanga internal tracker, and most direct post hits can be correlated to my real time linking activity on twitter and other social media. When I did Google Analytics beta testing I got to see how search engine performance compares to tracking. I believe live feed linking sources to various social medias are key to a future where search engines are more about performance than cataloging, which has been confirmed to me by coders who create bot algorithms as I was beta testing paper.li. I've fought hard through redundant age-old stacks to make my way to the google front lines again, so my Lexx work shows up faster on Chrome searches now. This has been a really interesting ride. At any rate, my point is, I can still go back 6 years on my original tracker and I can still see that in 2013 just before the last big blog server move, I was getting traffic like this (and since then, the tracker may have been abandoned, we can't tell). Click the thumbnail to see full size.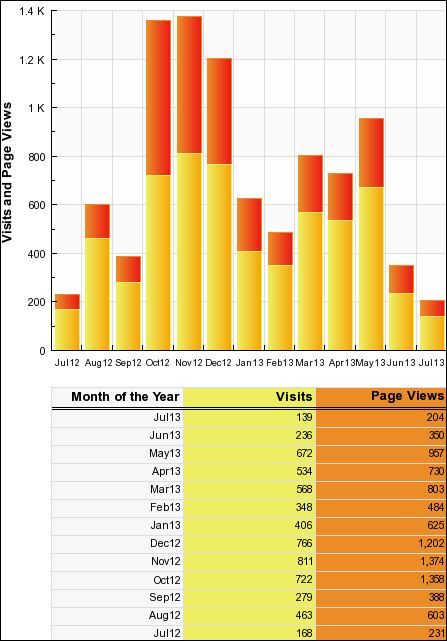 My original tracker also still lets me see the latest 500 visitors on a map. I once counted over 80 countries among the total visits. You guys are not alone. Click the map to see it better.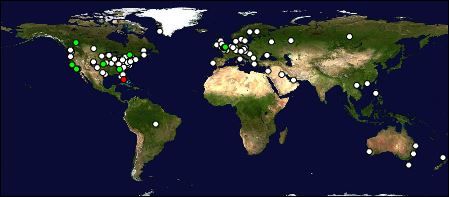 Besides Lexx, the most common search phrases that bring new visitors here are variations on 'huge spaceship'. The most seen post from a phrase search is How Big is the Lexx? My biggest Lexx referrer is Lexx Domain. Most of page views per person count comes from the Lexx tag on Tumblr. Visitors who stay the longest come through URLOpener and are pinged through the Google translator server in Mountain View, CA.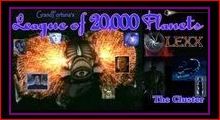 Lexxperience

Google+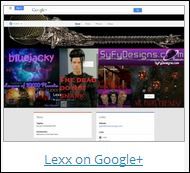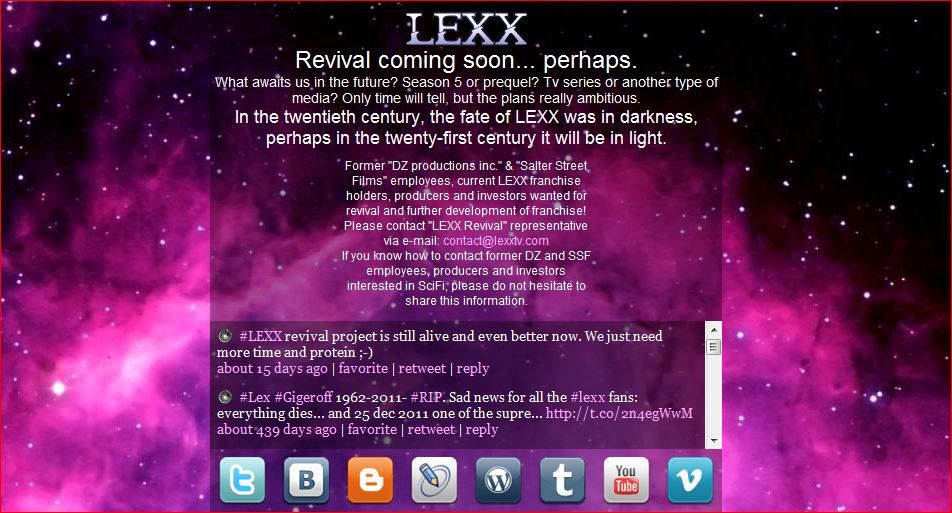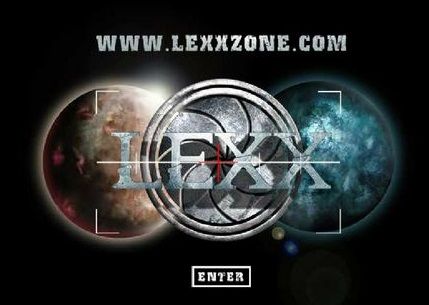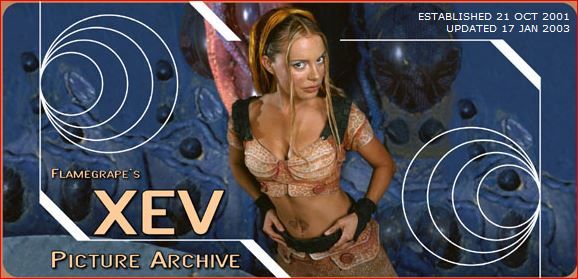 Categories
Everything I have in this blog
Calendar