So spring has sprung and it's a lovely time to be a chicken with all the spiders sneaking around, baby grasshoppers showing up, snails lurking around the rocks, and piles of little earthworms under the old leaves, besides all the fresh salad spread out for the grazing. (Imagine walking around in your food because there is just so much of it...) Sometimes you get lucky and find a little patch of wild strawberries or tiny little baby snakes as skinny and fun to slurp down as spaghetti! But we live in a scary neighborhood full of big dogs, plus being on the edge of Mirkwood is actually quite dangerous. We've lost several chickens and two ducks in broad daylight within feet of us in the backyard to foxes and hawks (what I'd give for a slo-mo recording from a webcam!), so we don't dare stay out more than 20 minutes at a time. Especially when the woods suddenly get really quiet...
I've got mine trained to come in for special treats. Today it was a can of corn and a piece of bread, yummy!
Still, it's really hard to stop stuffing your face and move along when you're surrounded by paradise after such a long dull boring winter.
Oopsie, T'Pol doesn't seem to be around anywhere. Well, when one goes missing, you get the others put up and then go looking. I went back to where I saw them last before I came in the house and looked for feathers. Nothing.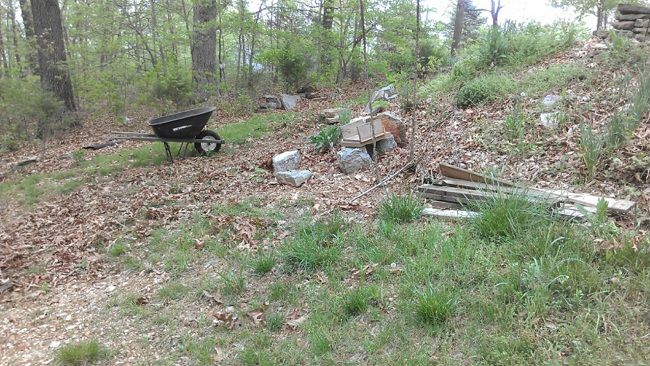 She could just be out there in a happy bubble gobbling up a motherlode of worms, right? Not the first time I've had to trench into the deeper woods and brave the chiggers, ticks, copperheads, tree spiders (big webs you walk into face first- yeah, Mirkwood), and poison ivy and poison oak. I'd almost rather sacrifice a chicken back to nature than go round another tick disease (I'm a Lymie) or wind up on prednisone and extra benadryl. I can handle snakes, but I really hate spiders, and we have some as big as your hand around here.
In woods like these, you keep your eyes peeled for color changes and movement (especially as T'Pol has excellent camo!), and listen for someone kicking leaves around. Chickens have a distinctive kick pattern. Usually you also hear squirrels or rabbits making a racket bounding through the old leaves embedding the forest floor, but at the moment it was so very quiet, I could only imagine a hawk must have stealth bombed my poor chicken and all the critters and birds froze till the coast was clear. That's happened before without the other chickens even noticing. The crunchy sounds you hear are me walking, and I didn't call out because I was listening. Halfway through you can see the other chickens really watching me from the pen.
I finally gave up and went back to the pen, where all the other chickens were still gathered at the pen door wondering what in the world I was doing. I told them it was too bad they couldn't tell me where they saw her last, and suddenly I was all face palm going OH, she's on a nest! (This is where I have to wonder sometimes if animals are much more aware than we think and could probably communicate in visuals telepathically if we just knew how to shut up our minds and let them, because the timing was incredible.) T'Pol isn't the most reliable layer in the world, being a heritage breed (Speckled Sussex), and since it had been so long since we'd gotten an egg from her (she lays the smallest ones, easy to spot), I assumed she'd stopped laying altogether like a Sussex we'd had previously that laid only one month and stopped forever. And sure enough, there she was.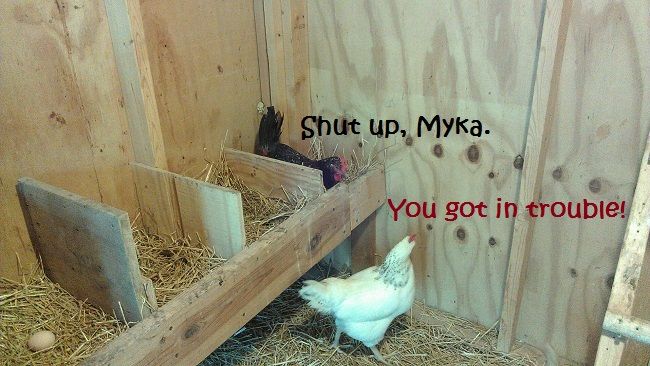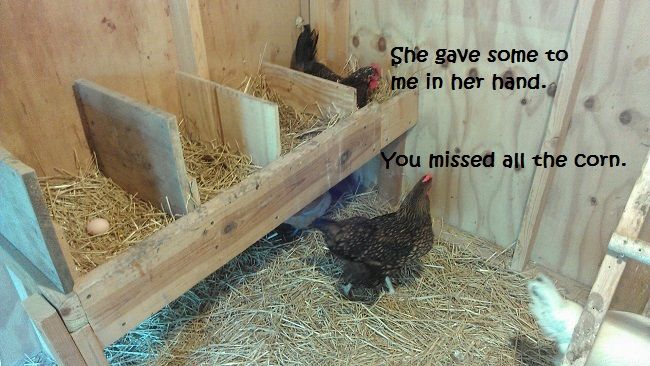 The only experience I have with Speckled Sussex are Bean (former flock) and T'Pol (I've otherwise been around chickens all my life), and they both seem to be the most intelligent I've had as far as interspecies interaction goes. Kinda dumb for chicken survival because they're so laid back and the opposite of my flightier hens that you sometimes wish something would pounce on and carry off because they're so aggravating when their nerves go off. But they literally walk around our feet like cats to the point where we nearly stumble over them, and you can see T'Pol was fine with eating out of my hand. She is also my talker, the first one to come get me and complain that she's bored or to tell on someone or ask me what I'm doing or look all around me for snacks. If you are thinking about getting chickens and don't have any experience, toss a Speckled Sussex into the mix and make a pet of it. Other people claim their Sussex are pretty good layers, but their average ranges from 180-240 eggs a year, depending on environment, health, and stress levels. I think Bean suffered a shock from jumping right on top of a 6 foot black snake when she flew up to a nest one day, because she stopped laying cold turkey, laid one egg inside out a week later, and then literally went hermaphrodite on us. Her comb suddenly poofed up bigger, her tail feathers got longer and curved more, and then she started trying to crow, so she became truly transgendered. This isn't terribly uncommon in the chicken world, so we found it pretty amusing. Here is the snake.