This blog is undergoing a server move that may take a few more weeks (months?) to complete. Apologies for posts that are difficult to read.
Lexx, the Dark Zone, scifi- Laptop screencaps used in not for profit blog episode and character reviews and film study at http://grandfortuna.xanga.com Copyright Disclaimer Under Section 107 of the Copyright Act 1976, allowance is made for "fair use" for purposes such as criticism, comment, news reporting, teaching, scholarship, and research. Fair use is a use permitted by copyright statute that might otherwise be infringing. Non-profit, educational or personal use tips the balance in favor of fair use."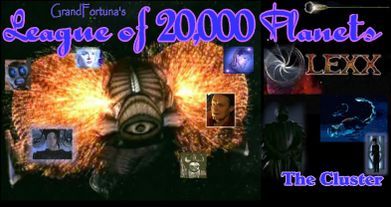 Every Friday is Lexx watch, 8pmCentral U.S. time (Chicago time). I know not everyone is on twitter yet, but if you are, I'm pinkyguerrero. Sometimes I post in the LittleLexx forum. You can see everything I have on this blog and all the other stuff I do online in the navigation menus on the left. Maybe coming soon, Lexx hangouts.
NAVIGATION- where else is Janika Banks?
Jail acct on twitter
Yablo - main blog
spaz on Blogger
Pinky stuff at syfydesigns
Pinky's blogs at syfydesigns
Merlin at syfydesigns
Lexx at syfydesigns
Surveypalooza at bluejacky
You May Be An Aspie If… at bluejacky