I first ate this years ago during a big camping trip one weekend with probably over 50 girls plus a number of counselors. I was asked to go to be an extra supervisor for activities, which was fun. Smelling this breakfast cooking outside after sleeping in a tent is a gorgeous experience.
Start by frying up some bacon, set it aside. (If you prefer chopped up ham, by all means saute some ham at this step! Set it aside like you would the bacon.)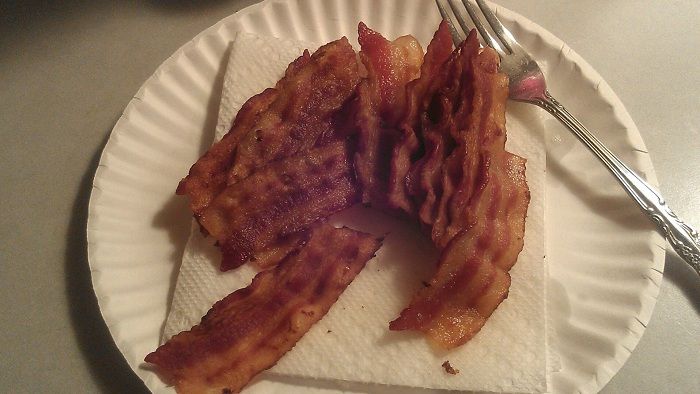 Drain the fat out of the pan, and I use 2 T of butter to every 2-3 eggs, so for this batch I used 4 T of butter. Let that melt on low heat in the pan while you chop up some veggies. I like green onions and orange bell peppers, very colorful in the eggs. My dad likes to steam broccoli florets in the microwave to add to his eggs (ew!), plus he sautes lots of chopped up jalapenos, other people like chopped tomatoes, pretty much anything your heart desires. The main thing is to get the harder veggies a little soft first before you scramble them in the eggs, so saute whatever you chop up in the butter (or whatever other fat you like to use, I think real butter has a nice flavor). I also like to add mushrooms, these are baby bellas.
When the veggies reach the softness you prefer (try to keep some color, don't cook them to death), crumble the bacon up into the pan with the veggies and give it a good stir, then move all of it to the sides to make room for eggs. I grow my own eggs
which are much more tasty than regular store eggs, and the yolks are darker.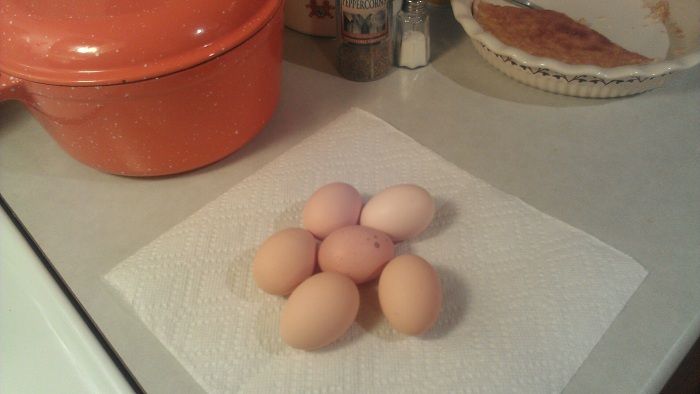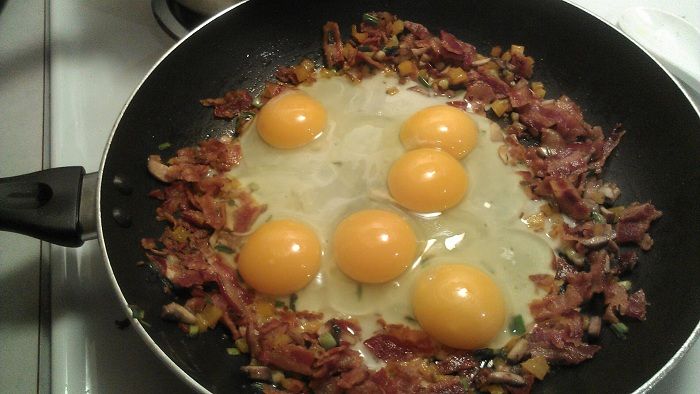 Pop the yolks with your spoon and stir the eggs up real good to scramble them, then pull the veggies and bacon into the scrambled eggs and make sure they're all scrambled together evenly.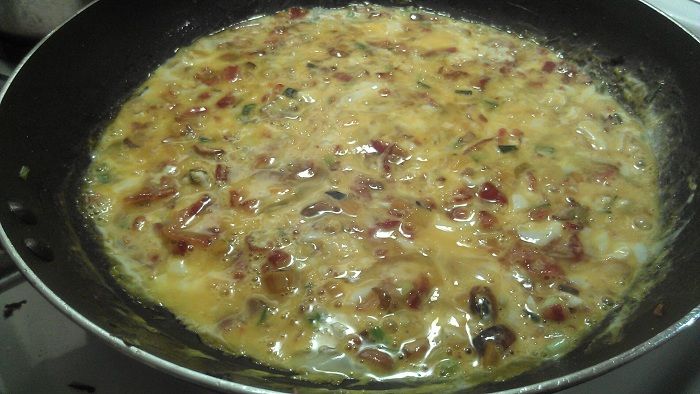 The rest is easy, just keep stirring every few seconds until the eggs cook and dry out a little.
I turn the heat off when the eggs are just done and sprinkle cheese on. I like mixing several cheeses together, but mostly I like Swiss with a little parmesan. If you like a more Mexican style of eggs, the colby/jack is really good, and a little parmesan perks it up even more.
Looks great on the plate! Some restaurants offer options like hollandaise sauce or a dollop of sour cream or Tabasco sauce and maybe other goodies on the side, like sliced avocados and maybe more fresh chopped tomatoes or a separate mushroom sauce. This is the part where you play around with different flavors and styles. Me, I like digging in as soon as I can.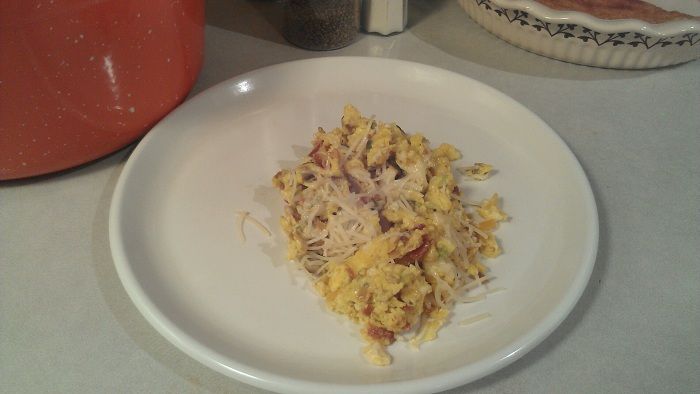 I like to make a big batch so I can save some for later. These scrambled eggs keep very well in the refrigerator for a couple of days, and Scott likes to take them to work, because he leaves so early in the morning.
One very nice perk about this ~basic~ egg recipe is that it's very low carb and won't spike your blood sugar, if you're having to watch out for that. If you add toast, juice, milk, sauce, fruit, and other stuff like that you will, but not if you just stick to these eggs. Also please notice there is no added salt. You get plenty from the bacon (or ham) and cheese.