Scott keeps bugging me. He thinks it's funny that I look so crabby. I told him back off and don't touch me. My uterus wants BROWNIES. The only thing I can think of that equals the word love right now is BROWNIES.
An exercise I've been doing over the 2-3 years that I've blogged privately is some form of bullet pointing, to cut down on extraneous verbage. So here we go with thoughts about this week.
It's not enough that I've been autoimmune since my 20's, now Scott is diagnosed with stuff scarier than mine. The rest of this month will be an experiment in whether he will be able to change his workaholic lifestyle before he croaks himself off.
omg, if we wind up having to sell the house, that means we have to ~clean~ it... You'll understand the horror of that statement only if you understand Scott is a super neat freak and our walk in closet is
spotless
. I continually stop him from packing everything we own into labeled neatly stacked containers.
The whole plunge into floaty disassociating depression after my gyno pulled me off birth control to see where I'm at with my hormones on top of my regular dr radically dropping my thyroid dose when they found out I went way hyper was a real trip and a half through severe hormone deprivation, so maybe none of this stuff is real. I haven't been sure what's real or not since about April.
So the whole way-past-menopause thing was just another fling from a slingshot and now I seem to be more fertile than ***EVER*** and I'm allergic to everything including condoms and chemicals, and now THERE ARE NO BROWNIES because Scott is on such a big load of prednisone that a half piece of toast spikes his glucose up to 150.
I see my psyche guy tomorrow. I can't wait to tell him about Scott's plans to thwart the zombies. I'm cool with it as long as they can't get into the chicken pens. I just wanna know if vasculitis is a precursing symptom of turning into a zombie, and I'll need written instructions on what to do so I don't mistake him for a
cockroach from outer space
because my memory lately is just shot.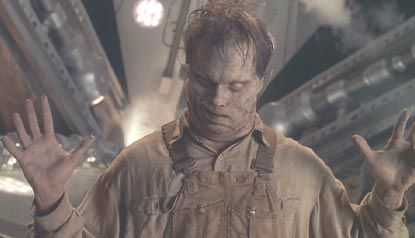 ~
breathe
~ The anxiety isn't as bad as it used to be, thank goodness, but I still can't watch the water polo events without feeling like I have to hold my breath a lot.