This is part 6.
Go back to part 5.
Go on to part 7.
Return to The Lexx.
Go to main blog.
Images from photobucket.com/lexxpix. Thumbnails click to original size.
I suppose I should put a caution up- you're about to see a really graphic bloody scene from a tv movie called Lexx: I Worship His Shadow. There is a 'basic guidance' age rating up on this post, but unless you're really into stuff like Walking Dead, maybe you should close your eyes until you get to the end.
Stanley's day has been sucking since we left him. Seriously, having to turn yourself in to a detention center for punishment on the Cluster is NOT something you can console yourself over a bottle of beer later, and Stan is locked up in a sickening dread bordering on a headache and sour stomach. No more silly pot shots to pass the time, how to make time stop now is the big question.
Notice the robot is now facing the disembarking prisoners. Well, I say that like they can actually step out, but they're still bolted to those heavy slabs and being moved along on a rail like an assembly line.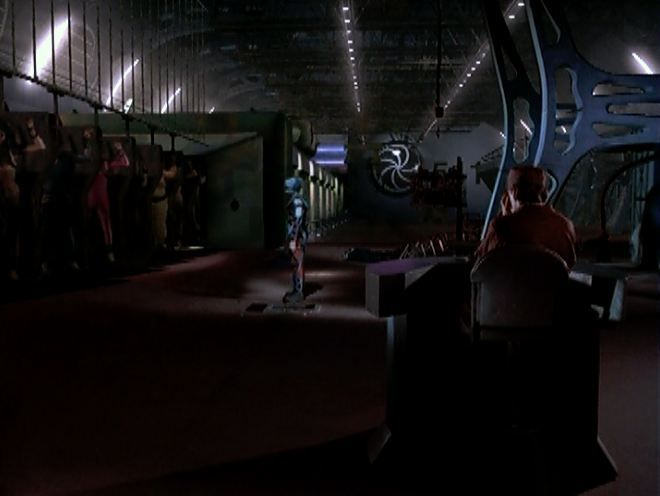 I wonder what these robots actually do. Poor Stan....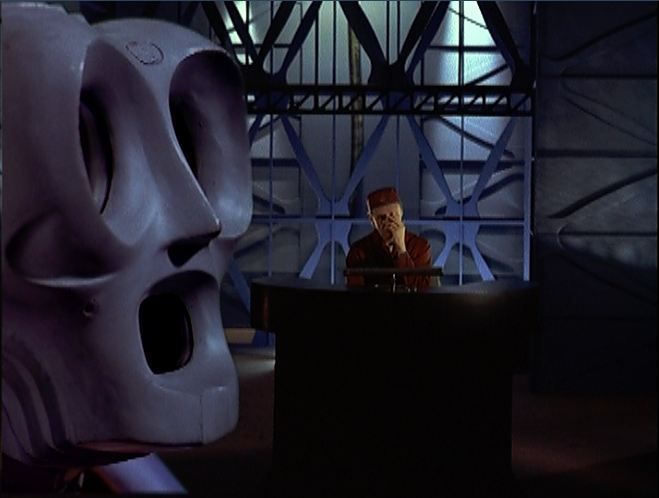 Can you imagine being moved around like that? No telling how long those prisoners have been bolted to those slabs, and I bet they haven't had a drink or bite or been to the restroom in many hours. One old guy recognizes Stanley. "You! I know you! Stanley Tweedle!", and starts calling out, "It's him! Stanley Tweedle!" Stanley starts sinking down in his chair, one of those weird omg nighmare moments on top of an already very bad day.
But while the old prisoner is still calling out Stanley's name, a bolt breaks loose and his slab tips off and heavily bumps the other slabs around it (that would suck, you think someone kicking a seat behind you is bad) before it slams down to the floor and squashes him like a *bug*. (Ironic....) I would love to take a guess in a contest over how much those slabs must weigh to make that kind of splat, and I can't help thinking that even just mentioning the name Stanley Tweedle must be synonymous with cosmic bad luck. I wonder who that old guy was calling out to. Would the other prisoners know or care at this point who Stanley Tweedle is? Apparently someone does and yells out "Traitor!" while Stanley hides behind his desk. Seems they're taking Stanley kind of personally for some reason.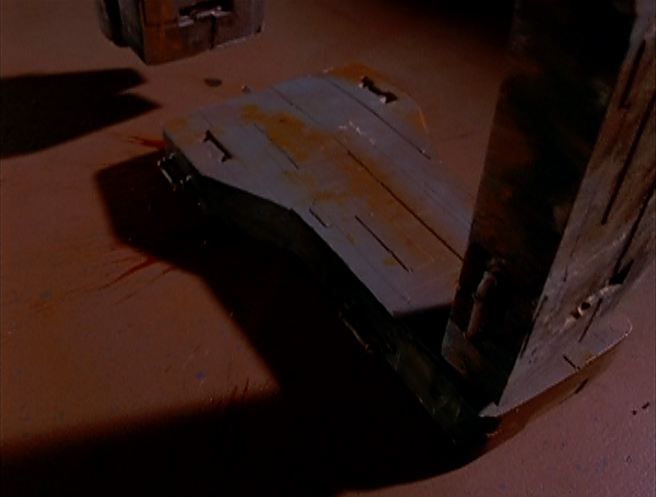 That scene intrigues me. Stan isn't happy at all that someone recognizes him and knows who he is after years of being a prisoner stuck on the Cluster. These prisoners are being carted away to unknown fates, why would Stanley be mortified enough to actually get down and hide? He must have done something ~really~ bad. We find out later he's pretty famous.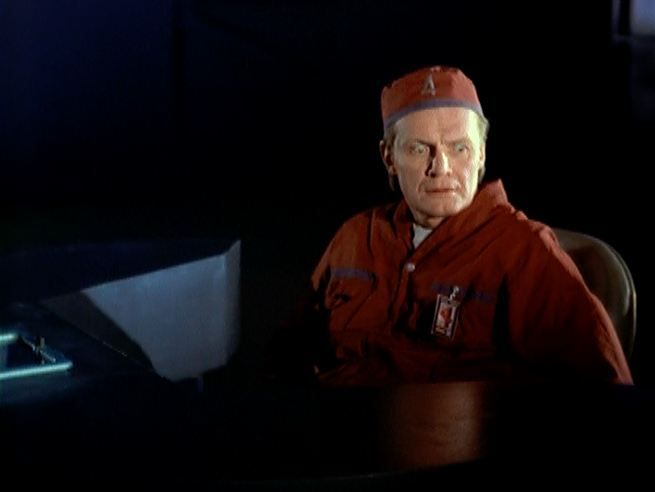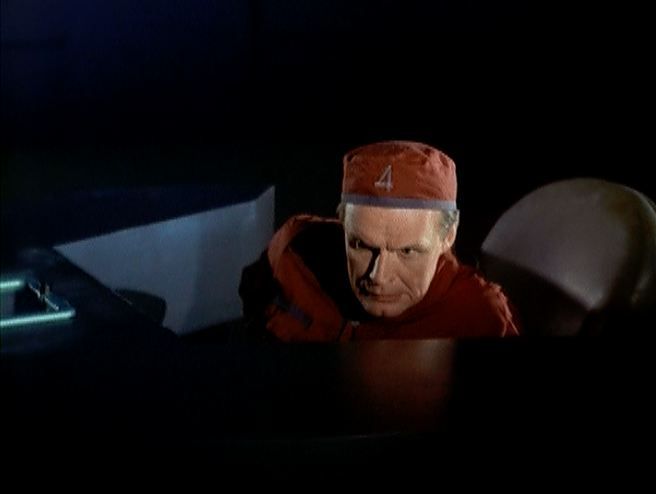 We don't see how far the slabs get railed into the docking center, but prisoner processing is efficient and quick.
And we never find out what the person in blue is all about, but I love that outfit.
Woe to humans the day they develop a holographic court system run through an automatic computer program. Oh, wait, that's happening.... They get the equivalent of a court appointed attorney, a prosecuting attorney, and a judge who passes sentence, all holograms running on preset programs. I'm not sure why bother is even made over protocol, unless it's to pound home the humiliating and very terrifying inhumanity of the ordeal, like layer after layer of nightmarish theatrics. Argon Protopi, Pie Maker is first up. As his slab rolls into place, the hologram program comes up and one of the robots starts dialing on a machine. It's freaky that the robot has human arms, but not a human head.
An elaborate headgear assembly lowers and clamps onto Argon Protopi's head. There's a nasty looking red stained spike thing aimed at his right parietal lobe. The slab locks into place with a jolt and Argon Protopi can't so much as nod his head. The defense argument starts immediately without preamble. "My client", and here another automated voice says his name, like it's filling in the blank -Argon Protopi, Pie Maker, Class 2, Orbital 5- "is innocent of the charge of" insert glitch and accusation from a preprogrammed list "failing to pay money owed to the temple and throws himself upon the mercy of this court, secure in the knowledge that His Shadow's wisdom will prevail upon these proceedings." And here the robot presses a button with his thumb and the spike jabs into Argon's brain. I'm not sure if it's a mechanical voice from the robot or the machine he's working, but we hear "memory search commencing".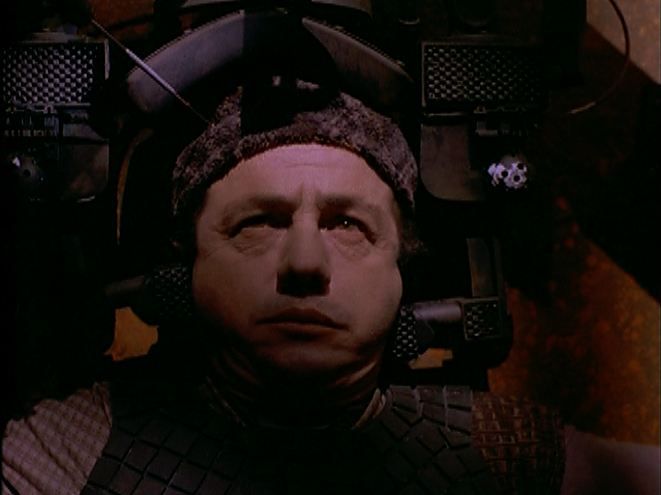 A screen hooked up to the memory search gear starts showing blips of scenes that look vaguely like Argon may have been involved with some temple prostitutes, but as it digs deeper into his memories, he cringes and clenches down into his immovable slab, obviously in some kind of weird sickening pain. Whatever that spiky probe is created to do, one thing it seems to be good at is using radio signals to forcibly prompt the brain to show specific memories that will reinforce whatever accusation is made, because the next thing we see on the screen is Argon refusing to give money to temple clerics begging for alms. I can't think of a more convenient and successful self incriminating method to run people through a 100% guilty judicial racket, because the human brain naturally focuses in on the very thing that will get it killed, especially when prompted with a suggestion. And if that's all it takes to get you removed from society and whisked off across a galaxy to this hellhole...
The judge immediately finds Argon guilty and adds "You are therefore sentenced to have your individual life terminated; however, His Merciful Shadow will allow many of your vital organs to live on as components used in the making of robotic drones." Argon has started sputtering and whimpering as the judge goes on. "Your unusable flesh will be contributed to the Protein Bay where it will be recycled for purposes that serve His Shadow." Poor Argon is rolling his eyes around to the frozen defense attorney still smiling at him.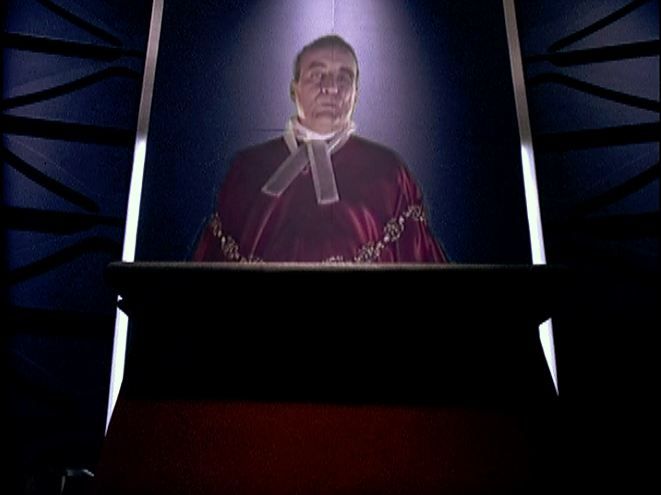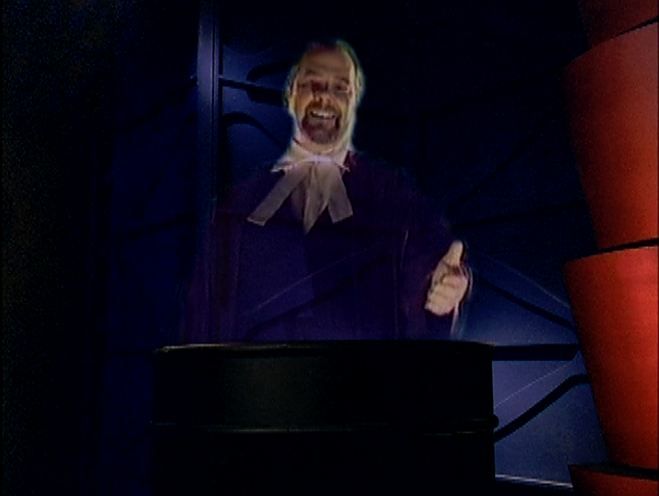 The robot flips a switch, the rail switches to a different track, and Argon's slab turns and rolls toward a wall with patterns cut into it. His fear consumes him and he starts screaming, "You can have whatever you want! I'll pay! I'll pay!" As his slab moves away and the next prisoner advances into place, his defense attorney turns into a hologram of a Divine Cleric that quickly says "In the execution of this sentence you are hereby cleansed of your crimes against the League of 20,000 Planets. May His Merciful Shadow fall upon you."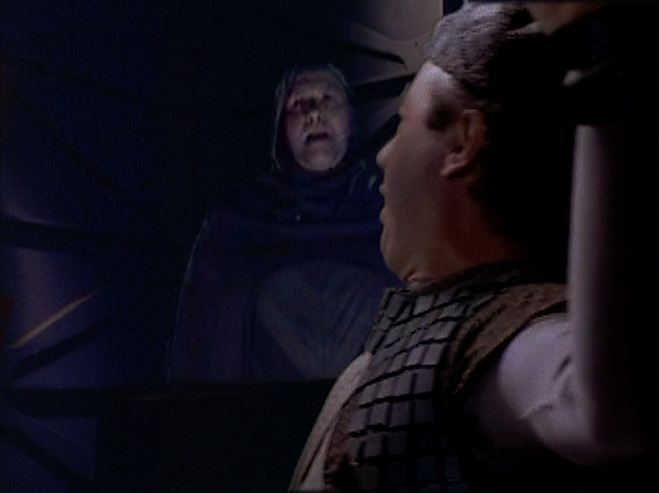 As Argon's slab approaches the wall with the die cuts, rotary blades snap out from the grooves and start whirring and moving along their tracks, which are in the familiar shapes of human organs. Just before he reaches the wall, two robots monitoring his progress salute him, saying "I worship His Shadow."
His slab presses against the die cuts, he screams as a bowl with two nozzles of spraying water moves into place, and the prisoner next in line gets caught in the face with a spray of Argon's blood escaping through a gap around the slab. If she'd been able, I think she would have thrown up, but she was already too starving and exhausted from being on her slab so long. The way she looked and sounded when that happened made me feel really bad for her, because you know she knows she's next.
It kinda hits you that this woman is his only connection to anything human during his horrible death, and she suffers through it with the kind of anguish only humans feel in such brief moments of terrifying clarity and sickening horror. I think her face perfectly captures the human condition that philosophers go on about, caught up in the absurdity of being in a place of utter hopelessness. George Orwell's Big Brother is starting to look pretty good, isn't he? Like rainbows and kittens compared to His Shadow's rule over the League of 20,000.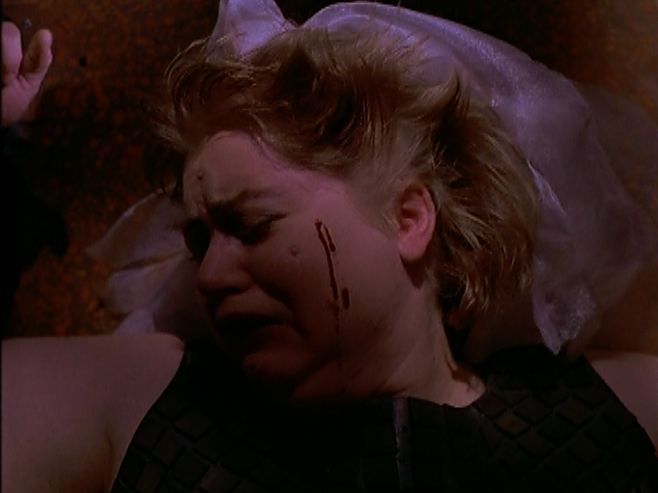 Argon has already stopped screaming and his brain plops out into the bowl. After the bowl with Argon's brain moves away, a big plastic sack moves into its place and the rest of his organs fall into it as the razors keep cutting. We never see where the rest of his body goes, limbs and spine. The bag gets sealed and dumped down a chute to fall onto a conveyor to join more packages... Wait, a conveyor??
Which is alongside other conveyors...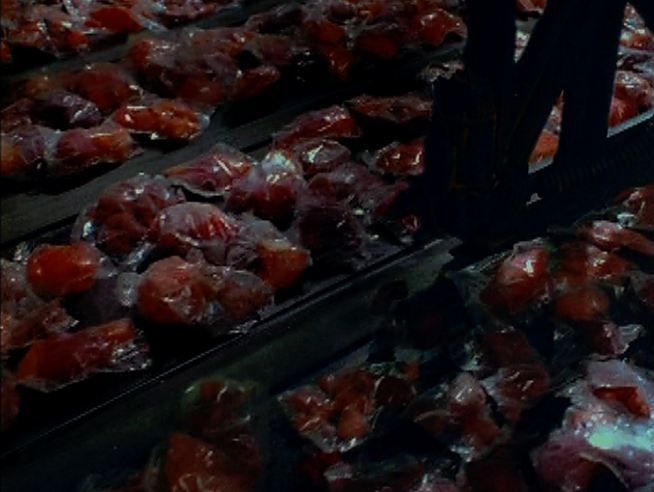 ..which are alongside other conveyors...
..all streaming packages filled with what is presumably freshly removed tissue from other prisoners all over the docking center, which means this is being carried out continually by the hundreds of prisoners per hour, maybe even thousands. How do you measure something like that? Where do they get all those people? What in the world are they being harvested for? Because that's what this is- a harvest.
O!M!G!  It's. a. big. bug.  *Big*.  I would faint if I saw that in real life.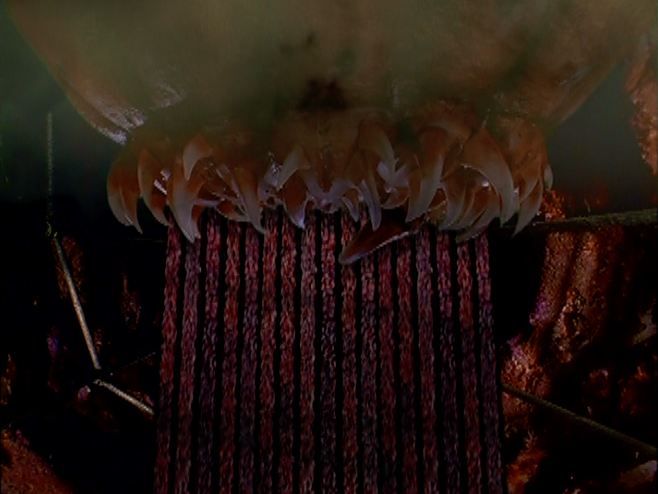 The handful of you that have read through my survey blog and know I can't do bloody scenes in shows any more are going wtf, but it's ok, I'm immune to this one because I watched it so many times back when it was new. And I want to congratulate you, you've made it through the sickest part, and everything else from here out is a piece of cake. I could be lying. But maybe I'm not. Or I might be. It's hard to tell.
I just can't imagine what the crap any of this might have to do with Stanley Tweedle...
If you are getting interested and I'm moving too slowly, The cult sci-fi series LEXX comes home - Dallas TV | Examiner.com says All four seasons are now available through Echo Bridge Entertainment. For more information head over to https://www.echobridgeentertainment.com I'm not being paid to link that, I just love this show.
(Ignore this part, this is pre-server migration.) I'm sorry if the like button is posting over as generic Xanga instead of this post, Facebook's platform updates have recently gone through some changes, and I'm still wrangling with it, but I'm taking a break and I'll work on it later. If you want to link this to your facebook, manually input this post address directly into your facebook status and you'll get it. Sorry for the inconvenience.  Ok, that's pulling through only the generic Xanga, too.
Like Buttons and Stories to the Right Audience
We're updating the way you restrict the audience for the Like button, as part of the Like Button Migration, and resulting stories to give you more control. Going forward, in order to limit the distribution of age gating stories to people in the appropriate country or age group, you must include a metatag on your URLs indicating the restriction. Please review our documentation on how to do this. For more details, see the blog post where we announced this breaking change. -"Facebook developers will have the option of testing this migration before it takes effect permanently on November 7, 2012 for all Like Button social plugins." Yes, that is today, and since I age restrict my Lexx posts to basic guidance, that seems to break my internal Xanga like button or something and I have to make my own.  That or all the major web hosts will update their facebook platforms and it will all magically get fixed.
This is part 6.
Go back to part 5.
Go on to part 7.
Return to The Lexx.
Go to main blog.