A couple of loyal readers who have been following my bluejacky blog already know from reading my silly little surveys that I have cooked professionally in both a big restaurant (400+ capacity) and a posh lounge, and that over the last two years have suddenly developed a ridiculous array of food allergies to the point where I can no longer eat in restaurants myself. I decided that the only way not to feel sorry for myself was to make everything I eat at home taste *better* than any restaurant I've eaten in (or cooked in), and believe it or not, I've wildly succeeded in these little babies.
Italian Chicken Fingers
Measure one part plain packaged bread crumbs (or flour, if you don't have bread crumbs, note that panko won't work that well with this recipe) to one part ground parmesan into a breading dish, about a cup each. Mix well, breaking up the parmesan lumps, adding a big dash each of black pepper and garlic powder, a tablespoon each of dried thyme and dried oregano, and a teaspoon of smoked paprika. I personally prefer McCormick spices because I think freshness, consistency, and quality make for better tasting food. I'm not being paid to say that, just saying, as someone who does a LOT of cooking.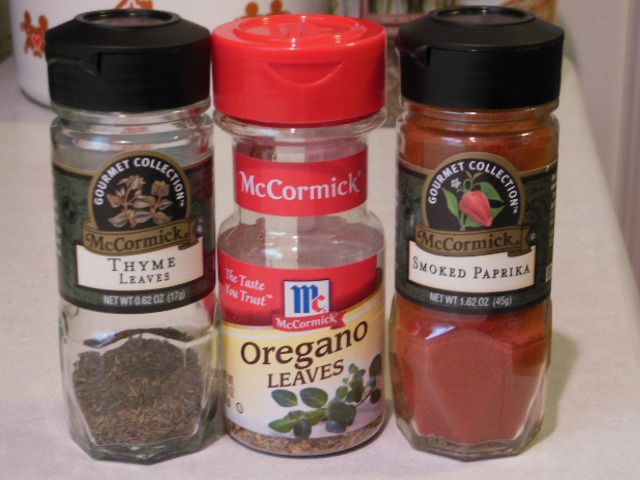 Open a package of chicken tenders and lay them out on a plate. I like to peel the transparent skin off them first, the finished texture is better. Lightly salt them only on the side that is facing up. Break two eggs into a small bowl and whisk them with a fork until they're all one color. Your ingredients are now assembled and ready to cook.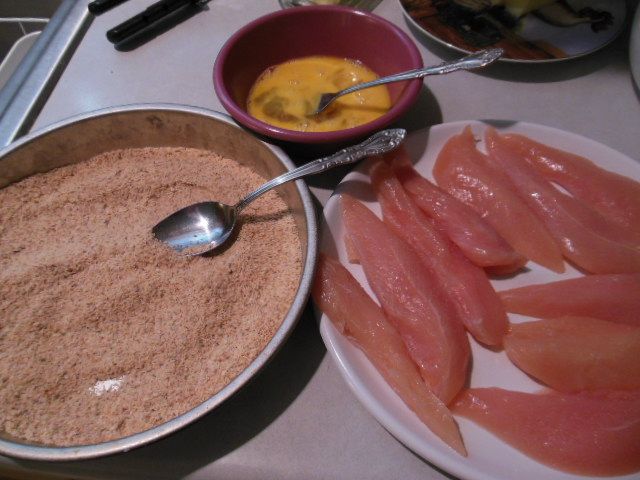 I normally use 100% canola oil for frying (1200+ mg. omega-3 in every tablespoon!) because it has a high smoke point and because I'm too sensitive to other oils, like corn and especially peanut. However, to punch up the flavor even more on these chicken strips, I fry them in leftover bacon grease (which also adds a little more salt). I never heat a nonstick frying pan above medium heat because some of them have warnings about the integrity breaking down under higher heat (and that can mean that toxic fumes might cook into your food, but I'm no expert, just cautious, and really tired of my pans breaking down). Your pan will get plenty hot if you are patient. When a pinch of the bread crumb mixture starts sizzling, your oil is hot enough to start cooking.
Dip a chicken tender into the egg with a fork, then transfer it to the crumb mixture and pat mixture firmly onto it, then lay it into the hot oil. Repeat with all the chicken tenders or until the pan is full, finish what's left in another batch. Cook for 2-4 minutes (depending on how hot you've got your oil) and turn over and cook until all sides are browned and crispy. Don't overcook or your chicken will dry out and be tough. Chicken tenders cook through much faster than regular sized chicken pieces. If you are unsure, cut the biggest one in half to make sure it's not still raw in the middle. If it looks done, the rest are done.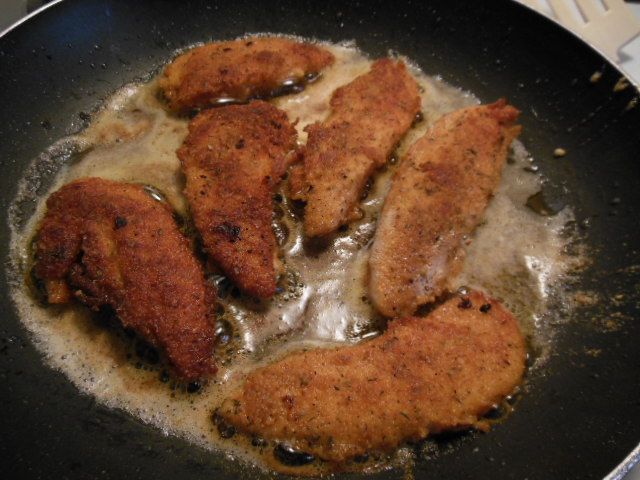 Lay the cooked chicken tenders out to drain on paper or a rack over a plate, and try to wait till they're cool enough to eat. I've burned my mouth because the wonderful smell was too much to take.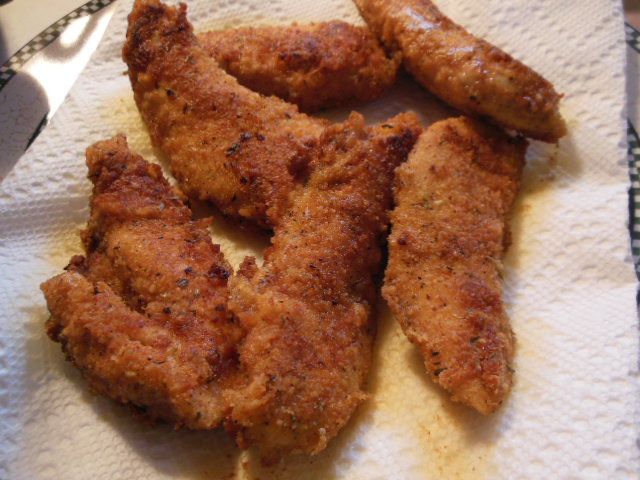 Remember scratch 'n' snif? Someday when we all have internet implants in our brains we'll be able to experience a smell and taste sensation by mentally clicking on a food picture we see in our heads. Too bad you can't taste this right now, it really is good. Go make some!