Anybody else watch
Syfy's 20th Anniversary Special
? I'm already finding message boards in several forums with fans expressing disappointment and frustration that Lexx didn't even get a passing glance, despite it being a heavy contender in the Friday Prime lineup during their biggest Stargate/Farscape years and despite the fact that
"Lexx was voted 23rd in a recent poll by
SciFiNow
magazine in June 2009 in the '25 Greatest Sci-Fi TV Shows'."
, from
Lexx - Wikipedia, the free encyclopedia
.
I'm not going to bother with why. I'm just going to share my traffic stats over the last ~ten days~ here on my Lexx nerd blog at
http://grandfortuna.xanga.com
-I am looking at ONLY those tracks that come in directly to Lexx-specific posts and not the main page or unrelated posts. Between the internal Xanga tracker and my paid site meter, there are 46 countries represented. In the U.S. there are 36 states represented, despite the fact that Lexx has not been seen in the U.S. since Syfy stopped airing it. If you have recently visited and do not see your country or state listed below and want to be recognized, give a shout out in the comments. MANY of my visitors came in through named blogs or anon proxies, and I'm not enough of a stalker to backtrack those locations.
Countries in no particular order-
United States, Canada, Luxembourg, Sweden, Finland, France, United Kingdom, Germany, Japan, Spain, Bahrain, Bangladesh, Denmark, India, New Zealand, Belgium, Ukraine, Turkey, Poland, Philippines, Russian Federation, Myanmar, Pakistan, Mexico, Israel, Iceland, Saudi Arabia, Netherlands, Australia, Indonesia, Iraq, United Arab Emirates, Brazil, Lao People's Democratic Republic, Yemen, Peru, Egypt, Thailand, Algeria, Slovakia, Kuwait, Singapore, Hungary, Romania, and Uganda.
United States in no particular order-
Illinois, Maryland, Iowa, Michigan, California, Nebraska, Florida, Georgia, Massachusetts, Pennsylvania, New York, Arizona, Indiana, Washington, Missouri, Texas, Utah, Idaho, Nevada, Kentucky, Alabama, Arkansas, Virginia, New Jersey, Oregon, Tennessee, Ohio, New Hampshire, Connecticut, Minnesota, Wisconsin, South Carolina, Delaware, Colorado, Louisiana, and Mississippi.
My little stat map only goes back 500 hits on site meter, and I easily got that just in the last 3 days. I have other non-Lexx posts that get hit a lot, so that is also showing up on this map.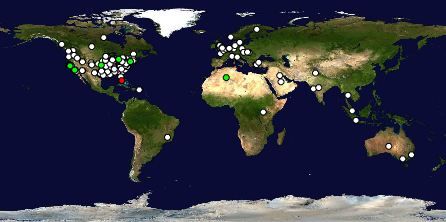 These charts are only for site meter, not Xanga. Xanga will catch what site meter doesn't, and vice versa. Neither one counts web crawlers, and site meter is pretty strict about not counting redundancy.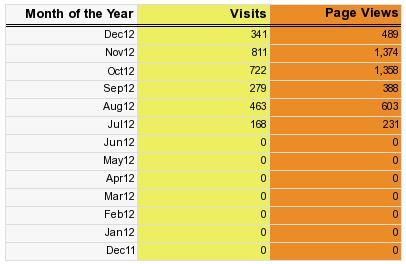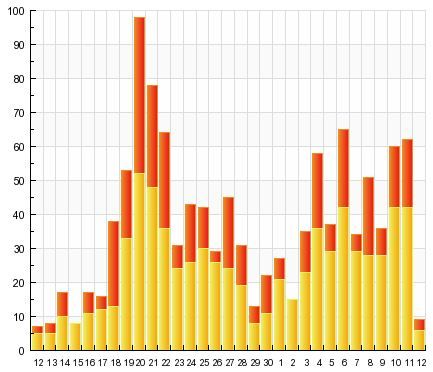 This is only one Lexx site. I'm not counting my tumblr or anything off a message board or other people's fan sites. I think this is a pretty accurate and fair sampling of worldwide interest in Lexx since I restarted this blog 5 months ago. If Syfy isn't hearing any screaming, it's probably because we've gone a bit hoarse and are a little tired, but that doesn't mean we don't want to see LEXX or don't care whether it's not talked about. I'm hoping the reason it wasn't is because it's still tied up in legal issues and Syfy simply couldn't legally use any Lexx footage, nice little marketing history at
Waiting For the LEXX Spin-off
, assuming it's correct.
"Year 1998 Commercials for the new season of Farscape and the new show Lexx. Part of the SciFi 2.0 overhaul of the channels motion graphics. At :41 The SciFI 2.0 Element for "Series" is displayed next to the Farscape and the Element for "Fantasy" is displayed above the words LEXX the Movies ."
"Advert for the final season premiere of the strange, sensual and surreal scifi program LEXX. In the final season the crew of the LEXX finds Earth which coincidentally is inhabited with people that they once knew from their past, including the coniving Prince and the denizens of planets Fire and Water they met in the season prior. The series ends after this season."
I think I mostly did this post to show Lexx fans that you aren't alone, and to show Syfy you're out there.